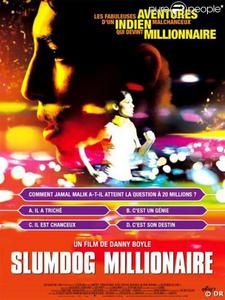 Je reviens du cinéma, très génée par
Slumdog Millionaire
. Non pas que l'idée et le scénario soit mauvaix(d'ailleurs, je me suis procurée le livre de Swarup) mais la réalisation me laisse perplexe.
Si le cinéma est un filtre de la réalité, une façon de s'évader; j'ai l'impression que Danny Boyle s'est trompé de filtre ou le fait exprès et donc se joue de nous.
Il passe du conte de fée au documentaire choquant  (et inversement) sans cier gare. Que voulait Danny Boyle en faisant ce film?
Dénoncer l'extréme misère des bidonvilles ? Dans ce cas, un document aurait tout aussi bien suffit et de toutes façons, nous quittons la salle rassurés pour nos héros, certes issus d'un bidonville, mais capables de se débrouiller tout seuls!
Parler d'un autre sujet et plonger dans une réalité autre avec sa caméra?...excellente idée mais pourquoi cette violence imposée par l'image? La violence est là et les thèmes traités sont réels mais l'image ne convient pas. L'enrobage "type clip vidéo"- trop rapide mais formaté pour un public avide de vitesse laisse un arrière goût dans la gorge et est en décalage avec le sujet filmé qui demande un peu de respect. On a l'impression de rester dans un hélicoptère au dessus des réalités montrées . Et je ne parle pas des incohérences que je n'ai sûrement pas toutes repérées. Je pense lire le livre assez rapidement et revenir ici pour en parler.
Malgré cette gène, ce malaise, j'ai adoré la B.O et le scénario ainsi que la relecture du jeu "qui veut gagner des millions"...surtout au moment de la dernière question.
Enfin, c'est  amusant de voir le point commun entre Cannes 2008 et Oscar 2009: d'un côté, des jeunes des banlieues se retrouvent sur le tapis rouge, de l'autre,
des enfants des bidonvilles sont propulsés sous les paillettes de Los Angeles
 Ceci dit, mon avis rejoint assez bien la critique publiée sur le journal The Hindu
http://www.hindu.com/mag/2009/02/15/stories/2009021550180500.htm
Orientalism for a global market
K. HARIHARAN
"Slumdog Millionaire" should be considered as one of the most gratuitous fantasies to be created about India in the 21st century, feels noted filmmaker
Caricatures galore: "Slumdog…" seems to have got more than its due share of attention.
For the majority of western audiences who are writhing under the excruciating weight of a global meltdown, a fairy tale about the ugly side of India should certainly come as an orgiastic catharsis! "Slumdog Millionaire" should be consider ed as one of the most gratuitous fantasies to be created about India in the 21st century. Over 200 scenes whizzing past in 120 minutes leaves one completely anaesthetised and incapable of registering the complex layers that make up the garbage dump presented in "SM" called India.
At the outset, as an Indian and a Mumbaikar I am not ashamed to accept the image of slums, criminals and gangsters that dominate the text of SM. They are my reality in the same way as homeless Blacks and quarantined native Indians are a reality to North America and cheap African labour, a reality of Western Europe. This reflects in the way Indian audiences choose to watch only those films from Hollywood which show crashing cars and sizzling pyrotechnics when the reality of the average American city is far from it.
Conformist images
So it should only be expected that American audiences would love to see films about India which conform to their image of the third world Orient. The real 'American' films by Woody Allen and the Coen brothers would make no sense to Indian viewers while the typical Bollywood melodrama would make no sense to the west. So while "SM" occupies 1415 screens in the U.S. today and the venerable Oscar committee is saddled with such an unexpected film, the only positive note on the other hand is that "SM" has ended up below average in most theatres across India!
The main problem with "Slumdog Millionaire" is the disease that infects the majority of Bollywood filmmaking. It germinates from a pitiable script, overloaded and heavily dependent on caricatures rather than characters. Fortunately most of Bollywood films are similar and they get their due, crashing miserably at the theatres but this one seems to have got more than its due share of attention and I would like to just re-orient this work.
What about characterisation?
I do not expect Danny Boyle to do serious research about the conditions of slums in India or the problem of petty crooks and brothels confronting the law. But I expect him to pay respect to something called "characterisation" and the fact that Indian audiences know these characters on-screen for much longer and in greater depth. On the other hand if he wants to simply caricature his subjects then the work needs to be truly minimal in order to allow the viewer to explore into the outline of the subject on hand, quite like the way Chaplin would portray the character of the industrial worker in "Modern Times" or as seen in some of the better Bollywood films.
Common sense tells us that one cannot caricature and also describe it in detail at the same moment. E.g. the host who conducts the …Millionaire show is downright rude and condescending to the chai-wallah but he is also enormously joyous when he declares the slumdog as the winner each time he comes up the ranks. There is the caricature of the police station where the "slumdog" is beaten and electrocuted through the whole night and yet the very next morning Jamal is in perfect shape and ready to put up an argument with a strangely amused cop. The Hindi-speaking kids fall off a train in front of the Taj and, voila, they start speaking English! Are these anomalies just bad direction or poor scripting? This question would not even come up if the film was a pure caricature but unfortunately the film also seems to have fallen prey to the dictates of psychoanalytical "western realism"!
So what is the result? We have Danny Boyle playing the Roman emperor watching the poor Mumbai gladiator being subjected to all the tribulations and then decide at the end, that the meltdown cannot afford to have him torn to shreds. So with the help of A.R. Rahman who will certainly agree that he has done much better music scores than this and Gulzar for writing some of the most inane lyrics ever, "SM" lets the two lovers walk happily into the moonset!
I do not want to compare this film to similar India-based films made by western producers such as "Monsoon Wedding" or "Fire". It would be a great insult to them. But "Slumdog Millionaire" is so insensitive that one wants to ask what the Indian co-director Loveleen Tandan was doing amid all this? The film is even unabashedly gender-insensitive with a woman of her status sharing credits (although at another level one feels irked that she has not been co-nominated for the Oscars).
The greed of the growing affluence of the IT boom that located the original "Millionaire/ Crorepati" shows continues unruffled as Danny Boyle refuses to deconstruct the syndrome that has left millions of us jobless, holding a begging bowl and hoping against hope that Prez Obama will press the right buttons to bring us all out of a similar shit-pool that Jamal falls into in his anxiety to have a glimpse of a superstar.
I am ashamed that the filmmaker who provided a scintillating demonstration of his anger in his "Trainspotting" has had to concoct such a preposterous script; that the Oscars and the Golden Globes have had to become so desperate to woo India and her audiences in moments of their crisis with such a film. Imagine "SM" has even managed to get an Oscar nomination for cinematography for a work in which no shot lasts beyond a few seconds! Sometime ago I had quite a lot of respect for the committees that decided the Oscars, but they too seem to have fallen to similar kinds of pressures that once swooped upon the Miss Universe and Miss World juries to award Indian models in order to increase sales of cosmetics in the biggest Third World country! What a shame!
The writer is a well known filmmaker and director, LV Prasad Film and TV Academy.